If you have been admitted or applied to IU South Bend for a particular semester and wish to save your admission decision or be considered for admission to a later semester, you must submit a deferral request eform on iStart.IU.edu.
To get started, first choose the eform that is appropriate to your admission category:
1. Freshman: first-time undergraduate students, or undergraduate students with 11 or fewer transfer credits
2. Transfer: undergraduate students with or who will have 12 or more completed non-IU South Bend college credits by the start of their intended semester of enrollment
3. Graduate: students who already hold a bachelor's degree and aren't seeking another
Follow the screenshots below after opening the applicable iStart link above to reveal the individual steps to the deferral request eform submission process. (Note that the following images show what will be displayed to freshman applicants; allow for contextual differences in the menu options and terms seen if you are a transfer or graduate applicant.)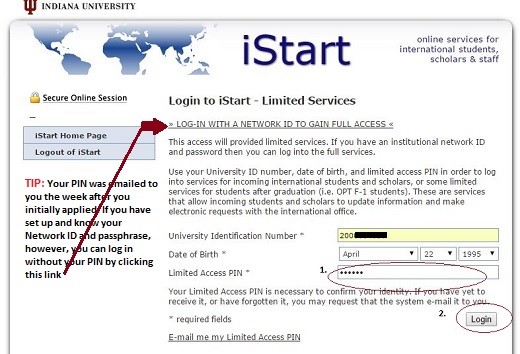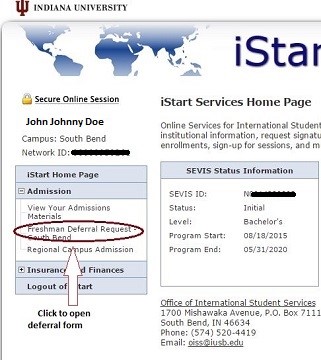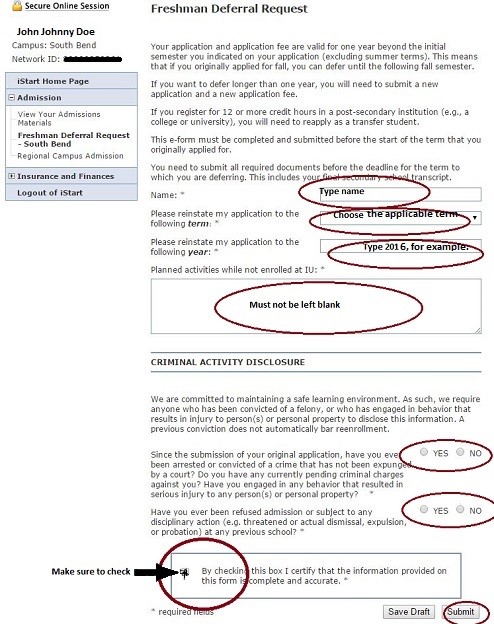 Upon review of your request, you will be notified with an updated letter of admission or a request for additional information. If you have completed any post-secondary course work since your prior admission or application to IU South Bend, you must let us know, as well as submit current, final transcripts for that work. Please note that maximum deferrable semesters as well as deferral availability may vary between academic departments and graduate programs.  
If you experience any difficulties with the process outlined above, please write to the OISS at oiss@iusb.edu.